Ball Race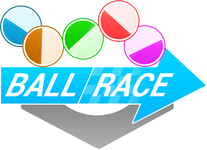 The logo for Ball Race
No. of Players
1-12
Controls
Mouse & Keyboard
Launched
14 July 2015 (Pre-Alpha Demo)
No. of Achievements
N/A
Ball Race is a Game World inspired by Super Monkey Ball .
Gameplay
Edit
In the game, several players race against each other while being inside of balls in order to reach the goal first. Players must also avoid several types of obstacles, such as bumpers, and some times co-operate with each other in order for every player to reach the goal. Units are awarded based on the order in which players got to the goal, the amount of melons collected, and if a player died or not.
Ball Race can be played by going on the main menu of Tower Unite, clicking Ball Race's logo, and clicking on a server and clicking on "Join".
Released Maps
Edit
Difficulty: Easy | 10 Levels
Nimbus introduces you to the most basic concepts of Ball Race. Nimbus features hammers, boosters, bumpers, and teleporters.
Difficulty: Very Hard | 14 Levels
Midori is one of the most challenging maps of Ball Race, including things like attractors and repellers (they pull/push you away from them), lifts, and much more. Midori seems to be themed as a sort of grassy, lakeside map.
Difficulty: Medium | 13 Levels
Paradise is a map that has a tropical theme. It features tubes and moving platforms. Paradise is based off of a GMod Tower map with the same style and name.
Difficulty: Hard | 10 Levels
Memories a map based off of a GMod Tower map with the same name and is set in the sky. It includes laser platforms, Attractors, and upside down parts of the levels.
Difficulty: Easy | 14 Levels
GLXY is set during the night and is made of platforms that slowly change color, like a dance floor. GLXY features moving platforms.
Difficulty: Easy | 10 Levels
Summit is a map set in a snowy area with castles and floating rocks around the levels. Summit features moving platforms.
Difficulty: Very Hard | 15 Levels
Prism is a map located in space. Prism features disappearing blocks, moving blocks, bumpers, rails, boosters, and trampolines. Prisms and asteroids can be seen in the background. Prism has 15 levels.
Difficulty: Medium | 12 Levels
Khromidro is a map based on a GMod Tower Ball Race map by the same name. Everything in Khromidro is polygonal, besides the course. This map features moving blocks, upside down areas, dissapearing blocks, a tornado, spinning blocks, and wind turbines that push the ball. In the background, there are mountains, clouds, and a giant spiraling rainbow.
Difficulty: Medium | 11 Levels
Oasis is a map based off of Sand World, a map from GMod Tower. Oasis is set in a desert, with some floating islands in the background. Oasis features falling blocks, randomized mazes, boosters, moving blocks, and magic carpets.
Upcoming Maps
Edit
There are currently no upcoming Ball Race maps.
Controls
Edit
(Move Mouse) Move Camera Edit
Your camera will move around your character when you move your mouse.
(W,A,S,D) Move Edit
When you press and hold W,A,S, or D you will move.
Ad blocker interference detected!
Wikia is a free-to-use site that makes money from advertising. We have a modified experience for viewers using ad blockers

Wikia is not accessible if you've made further modifications. Remove the custom ad blocker rule(s) and the page will load as expected.