Ball Race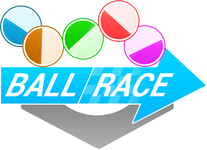 The logo for Ball Race
No. of Players
1-12
Controls
Mouse & Keyboard
Launched
14 July 2015 (Pre-Alpha Demo)
No. of Achievements
N/A
Ball Race
is the first
Game World
to be added to Tower Unite and is inspired by
Super Monkey Ball
.
Gameplay
Edit
In the game, several players race against each other while being inside of balls in order to reach the goal first. Players must also avoid several types of obstacles, such as bumpers, and some times co-operate with each other in order for every player to reach the goal. Units are awarded based on the order in which players got to the goal, the amount of melons collected, and if a player died or not.
Ball Race can be played by going on the main menu of Tower Unite, clicking Ball Race's logo, clicking on a server, and clicking on "Join".
Released Maps
Edit
Difficulty: Easy | 10 Levels
In Nimbus, learn the basics of Ball Race. This tutorial-ish map introduces you to obstacles such as hammers, speed boosters, bumpers, and teleporters. Fun fact: Nimbus is based off of Sky World from GMTower!
Difficulty: Very Hard | 14 Levels
In Midori, go through a collection of very difficult levels to get through, while over lake surrounded by huge silver towers. These difficult levels have obstacles such as ball attractors/repellers, lifts, and even more! Fun fact: Midori is based off of Midori from GMTower!
Difficulty: Medium | 13 Levels
In Paradise, take a well-deserved vacation to the beach! While racing above the beach, go through tubes, move across shifting tiles, and press buttons to progress! Fun fact: Paradise is based off of Paradise from GMTower!
Difficulty: Hard | 10 Levels
In Memories, race past great times you remember. While remembering what happened that one time, keep your eyes out for ball attractors, narrow walkways made of lasers, and flipping your world upside down! Fun fact: Memories is based off of Memories from GMTower!
Difficulty: Easy | 14 Levels
In GLXY, race on the dance floor at midnight! Here, you'll find speed boosters and shifting tiles.
Difficulty: Easy | 10 Levels
In Summit, experience snow so high up, you can't even see the surface! When playing, you can find multiple castles around you. The only obstacle you'll find here is shifting tiles.
Difficulty: Very Hard | 15 Levels
In Prism, race around color changing, disappearing, and moving blocks in the asteroid belt! Obstacles such as bumpers, rails, and boosters can bounce you off into space, so be careful. You can also find a few trampolines to help bounce you to the finish! Fun fact: This map was named Bloop Blocks before it was officially released!
Difficulty: Medium | 12 Levels
In Khromidro, race above a polygonal lake around polygonal mountains and with polygonal clouds! Khromidro has amazing sites, such as shifting, disappearing, and spinning tiles, upside down areas, a polygonal tornado, and wind turbines that push you around! Fun fact: This map is based off of Khromidro from GMTower!
Difficulty: Medium | 11 Levels
In Oasis, take a sky-high trip to the desert! While racing, you can find many sights, such as falling and shifting blocks, randomized mazes, speed boosters, and magical floating carpets. Fun fact: this map is based off of Sand World from GMTower!
Upcoming Maps
Edit
There are currently no upcoming Ball Race maps.
Controls
Edit
(Move Mouse) Move Camera Edit
Your camera will move around your character when you move your mouse.
(W,A,S,D) Move Edit
When you press and hold W,A,S, or D you will move.