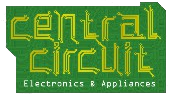 Central Circuit is an in-game shop that sells various electronic equipment and items to be used in your condo.
Icon
Name & Description

Fridge 

"Keeps food all nice and cool."

1,000

Microwave

"Great for a quick meal."

500

Wood Toilet

"Now with 50% more flushes per use."

800

Oven

"For when all the fast food joints are closed."

2,500

Water Cooler

"Keeps the office water cold."

2,500

Keyboard

"A must have for any computer enthusiast."

300

Monitor 

"You're staring at one of these right now"

1,000

Rise Tablet 

"A portable tablet."

5,000

Scifi Laptop

"Complete with holographic keyboard."

10,000

TV 

"Watch YouTube videos with friends."

800

TV Wall Mountable 

"Watch videos with friends... but on the wall!"

5,000

Bru Ray Player

"Brought to you by Nony."

400

Cellphone

"It's a cellphone that doesn't make any real calls."

2,100

Clock

"Check the time with this modern clock."

300

Lava Lamp

"Remember the 80s? We do."

1,500

Neon Bar

"Light up the place with neon color."

250

Phone

"Hello? Is it me you're looking for?"

200

Radio

"Listen to all the hit tunes, but not actually, because this lacks batteries."

500

Projector 

"It's expensive because the lens is made from a real diamond."

10,000

Computer

"A virtual computer so you can pretend you're playing a real game."

1,800

Security Camera

"Big brother's favorite tool."

15,000

TV Curved 

"The future is here, and it's not a straight line."

30,000

TV Large 

"Bigger is always better. This TV is not meant to bend."

15,000

Projector Screen

"Adds impressive clarity and impact to your media setup."

1,000
Ad blocker interference detected!
Wikia is a free-to-use site that makes money from advertising. We have a modified experience for viewers using ad blockers

Wikia is not accessible if you've made further modifications. Remove the custom ad blocker rule(s) and the page will load as expected.