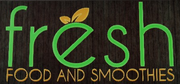 Fresh
is an in-game shop that sells various foods to be prepared in your condo.
Icon
Name & Description

Blender

"Blends just about anything."

10,000

Melon

"A metal band's favorite food."

50

Apple

"Granny Smith wants her apple back."

50

Beer

"The cause of, and solution to all of life's problems."

50

TV Dinner

"Probably made with real meat."

150

Salt

"Get started on a high sodium diet."

50

Pepper

"Makes all food taste better."

50

Carrot

"The myth that carrots improve vision was a lie spread by the United Kingdom during World War 2."

50

Banana

"Eating too much potassium can be lethal."

100

Orange

"Was the fruit named after the color, or vice versa?"

50

Red Apple

"A perfect gift for teachers."

100

Strawberry

"Extremely talented people can eat a strawberry and spit out the seeds like a tiny machine gun."

100

Skull

"Not sure how this got here..."

500
Ad blocker interference detected!
Wikia is a free-to-use site that makes money from advertising. We have a modified experience for viewers using ad blockers

Wikia is not accessible if you've made further modifications. Remove the custom ad blocker rule(s) and the page will load as expected.