What is The Boardwalk? Edit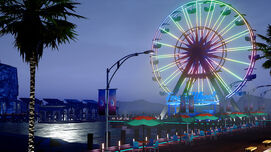 The Boardwalk is an area within the Tower Unite lobby which is set in a beach setting by a body of water. There are many different things to do already and more things planned in The Boardwalk, such as Typing Derby and the Ferris Wheel. It's a casual place for people to hang out in, purchase items, and play small minigames within the Plaza.
What is there to do? Edit
Currently, you are available to do the following things at The Boardwalk:
Mess around on the beach
Test your typing skills with others at Typing Derby
Have a peaceful, scenic ride on the Ferris Wheel
Buy things like fireworks and the Confetti Gun at Celebrations (The Milk Carton's favorite)
Buy some food at Fresh
Bowl for strikes in Bowling
Watch videos with your friends at the beach houses
Buy some beach related items at Oasis
Zap your friends in the chest at Laser Tag
What is Planned? Edit
There are many exciting things that are planned for The Boardwalk, that include:
Fighting aliens at the Shooting Gallery Ride
Bumper Cars
Poseidon (Rollercoaster)
Kamikaze (Ride)
...and much more in the future!
Where is the boardwalk? Edit
The Boardwalk is an area connected to the Plaza. Exiting the Train Station, go straight ahead until you find a large arch labeled "Boardwalk". Walk through, and voila. You're there! Or, you can take the launcher located above the Transit Station.
Ad blocker interference detected!
Wikia is a free-to-use site that makes money from advertising. We have a modified experience for viewers using ad blockers

Wikia is not accessible if you've made further modifications. Remove the custom ad blocker rule(s) and the page will load as expected.