What is The Boardwalk? Edit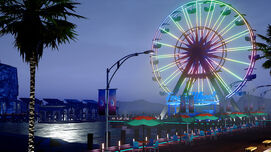 The Boardwalk is an area within the Tower Unite lobby which is set in a beach setting by a vast ocean, with only small islands and mountains surrounding the island. There are many different things to do already and more things planned in this area. It's a casual place for people to hang out in, purchase items, and play small minigames within the Plaza.
What Can You do Now? Edit
Currently, you are available to do the following things at The Boardwalk:
Walk around and chat at the Beach!
Try your best to type way too fast with friends (or strangers) at Typing Derby!
Relax and have a fun time with friends on the Ferris Wheel
Buy the Overly Excited Man's extremely dangerous equipment at Celebrations, home of the Sky Bombs!
Buy only the freshest food at Fresh Food & Smoothies!
Bowl by yourself, with your cousin, or with strangers at the Bowling alley!
Watch videos with your friends at the beach houses
Buy your beach equipment at Oasis
Zap your friends in the chest at Laser Tag
Ride and vomit on Poseidon, the Greece-themed Rollercoaster!
What is Planned? Edit
There are many exciting things that are planned for The Boardwalk, that include:
Fight alien ducks at the Shooting Gallery Ride!
Bump your friends around at the Bumper Cars!
Play fun minigames such as: Russian Roulette and Balloon Pop at Kamikaze!
...and much more in the future!
Where is the boardwalk? Edit
The Boardwalk is an area connected to the Plaza. Exiting the Transit Station, go straight ahead until you find a large arch with a "Boardwalk" sign inscribed on it. Walk through, and voila. You're there! Or, you can take the launcher located above the Transit Station. Anything works!